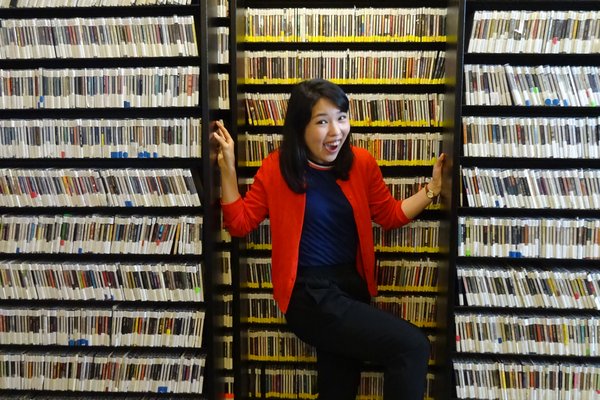 Internships
Gain real world experience in music and radio
KEXP's Internship Program seeks to provide interns from historically under-invited and under-represented communities with hands-on experience in the nonprofit arts sector. Our program is designed to develop and equip emerging leaders, interested in furthering their careers, in a variety of fields including music programming, audio production, and nonprofit capacity building. 
Our interns learn skills in business communication, project management, problem-solving, audio technology, database management and more. These skills and experiences offer our interns a unique ground-level glimpse of the day-to-day life of a community-supported arts organization, while offering relationship building and networking opportunities with individuals throughout the music industry. 
---
2023 Internship Applications are closed

Thank you so much to everyone who applied to a KEXP internship in 2023! We received 875 applications across the four positions and are genuinely amazed by how many people are interested in interning with us. For the next few weeks, we'll be deep in our reviewing process and will be reaching out to applicants about the status of their applications. Thanks in advance for your patience! We can't wait to welcome four interns to join us at KEXP this Spring.
- KEXP's Community Engagement Team, February 2023
---
What to expect from a KEXP internship?
KEXP internships are 6-months long and occur during the period of April - November. Interns must have availability of 15 hours per week during regular business hours (9am-6pm, Monday-Friday). 

All interns are paid $22/hr. 

Interns must have legal authorization to work in the United States. We depend on interns to determine their legal right to work in the U.S.

Interns must live in the Seattle area.

Interns must be at least 18 years old.

Interns do not need to be currently enrolled in school or be recent graduates. 

Depending on the state of COVID-19, the internship experience may be remote, in-person or a hybrid of the two. Currently, all internships are hybrid and require an on-site presence at KEXP's office in Seattle. 
Interns must be vaccinated against COVID-19 before entering the KEXP office. 
What are we looking for?
We look for diverse individuals who are motivated team players, excellent communicators, and most importantly are passionate about KEXP's mission and have a fanatical love of music. KEXP's internship program is committed to creating a diverse and welcoming workplace. We believe that having interns with diverse backgrounds enables KEXP to better meet our mission and serve music-loving communities around the world. People of color, women, and LGBTQIA+ individuals are strongly encouraged to apply.
Please contact internships@kexp.org if you have further questions. 
Community Partners
KEXP is partner of Alan T. Sugiyama High School's Pathways to Arts and Entertainment class. We hosts an intern from the school during the period of January-June. 
---
Looking for other internship opportunities?